Online Registration Opens November 1st, 2018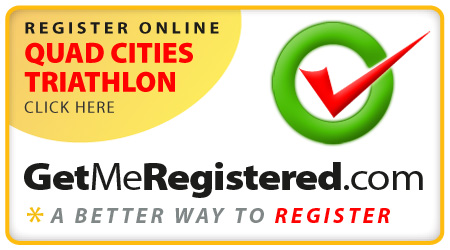 • 2019 Quad Cities Triathlon Registration •
- June 15th, 2019 -
Davenport, IA at West Lake Park
Start Time: 7:00 AM

---
Registration Options:
Individual: USAT membership number is required.
• $63.00 early registration
(through 3/23 at 8:00 AM US/Central)
• $73.00 late registration
(3/23 at 8:00 AM US/Central through 6/14 at 11:59 PM US/Central)

2 or 3-Person Team: USAT membership number is required.
• $130.00 early registration
(through 3/23 at 8:00 AM US/Central)
• $140.00 late registration
(3/23 at 8:00 AM US/Central through 6/14 at 11:59 PM US/Central)

Charity Spots - Individual: USAT membership number is required.
$20 of each entry will go towards our stroke awareness charity.
• $100.00 registration
(through 6/13 at 11:59 PM US/Central)

---
Cancellation Policy:
If you cancel your registration on or before April 19th,
you will lose $10.00 plus all online processing fees.
(This applies to Team or Individual)

There are no refunds or cancellations after April 19th.

You are Not allowed to transfer, give, or sell your entry
to another person. If you cancel your entry, we will open your spot
to the next individual or team on the waiting list.

---
Would you like to Volunteer? - Click here!
We are always looking for great Volunteers.